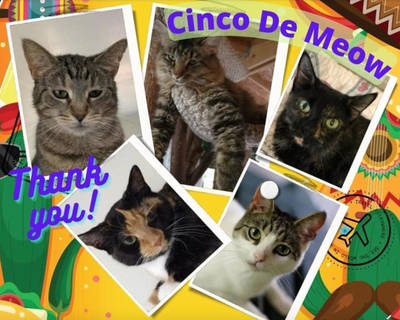 We Have A MATCHING FUNDS CHALLENGE!! For the Month of May, honoring Cinco de Meow, if we raise $3,000 it will be MATCHED dollar for dollar!! Our Sanctuary has THE BEST Feline Friends!!
WE NEED YOUR SUPPORT!! Please Share! May 1 - May 31, 2022!!
You can donate on The Cat House Feline Sanctuary, Inc., Facebook page (no fees), through our website, or by mailing us a check. Mailing address 1130 E. Main St., #136, Ashland Oh 44805.
YOUR contribution will make an impact, whether you donate $5 or $500. Every little bit helps. Thank you for your support. I've included information about The Cat House Feline Sanctuary, Inc. below.
Our sanctuary is an open environment for the cats. We do not have our cats in cages. They are all free roaming, able to interact and socialize with one another. This helps us get to know them, their personalities, who gets along with whom, and behaviors. This helps us match the right cat with the right family, to help insure a purrfect relationship!
All of our cats are spayed/neutered, vaccinated for feline leukemia, distemper, and rabies as well as tested for feline aids (FIV) and feline leukemia (FeLV), wormed and given monthly flea treatment. They are also treated for all prevalent illnesses while in our care.
We have a wide range of cats looking for new homes. We have a variety of ages from kittens, adult, and senior cats. We have long hair, short hair, a variety of colors, some declawed, males and females, as well as siblings. We also have a few special need cats, so we are sure that we can find the right match for your family.
We do require a veterinarian reference prior to making an appointment to come and see the cats. We will contact your vet prior to the appointment so we can make sure that our cats will be properly cared for in loving homes.
Facebook takes care of the donation processing with no fees.